Apricot Coconut Bars
Makes about 2 dozen cookie bars
Ingredients
For the shortbread base
½ cup butter
¼ cup sugar
1 cup flour
For the top layer
1 cup chopped dried apricots
1 can sweetened condensed milk
2 well beaten eggs
1⅓ cups fine unsweetened coconut
¼ cup flour
¼ tsp baking powder
Pinch salt
Instructions
Combine the flour, sugar and butter until the butter is fully incorporated and the mixture becomes crumbly.
Press into the bottom of a greased and parchment paper lined 9 x 9 inch baking pan.
Bake for 20 minutes at 350 degrees F before adding the coconut apricot layer.
To make the top layer
Combine all of the top layer ingredients together and pour over the base and bake for approximately 20-25 minutes at 350 degrees F (325 degrees f for glass bake ware) or until the top is just starting to brown at the edges. The top does not need not be brown at all.
Cool completely before cutting in squares or bars and serving.
These also freeze very well.
My wife's cherry cake
I did cut up the cherries. Yes, this is my favorite cake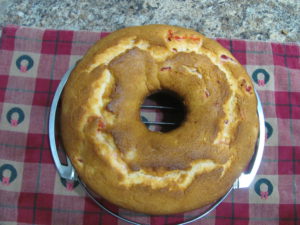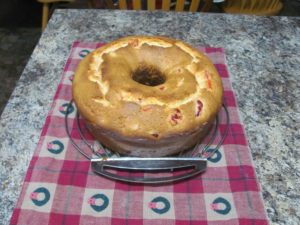 Jam Jams·
I love jam jams. Usually we buy the purity jam jams  We will be trying the following recipe.
Jam-Jams
1 cup butter
¾ cup sugar
½ cup molasses
1 teaspoon vanilla 
2 teaspoons baking soda dissolved in 4 tablespoons of hot tap water
½ teaspoon cinnamon
½ teaspoon salt
3½-3¾ cups flour, enough to make a medium stiff dough
About 1½ cups of favorite jam.
Preheat the oven to 400 degrees. If you have a very hot oven decrease the temperature to 375 degrees. The cookie sheets do not have to be greased but may be lined with parchment paper, if desired.
Cream butter, sugar, molasses and vanilla together. Add the dissolved baking soda and mix well. Add flour, cinnamon and salt and mix until a stiff but not dry dough is formed. It should roll easily. Roll out on floured board. Cut in desired shape. Bake in oven about 5 minutes being careful not to burn cookies as molasses burns easily.
Remove from oven and let cool a few minutes before removing the cookies from the pan. While still warm sandwich two cookies together with about 1 teaspoon of favourite jam.
Let cookies cool and store in an air tight container at least overnight before eating. The cookies will soften overnight and become the correct consistency for a Jam-Jam.
Makes 3-4 dozen cookies, depending on the size of the cookie cutter. I used a 2¼-inch biscuit cutter.
Shortbread Cookies
1 cup butter, softened
1/2 cup confectioners' sugar
1/4 cup cornstarch
1 1/2 cups all-purpose flour
Preheat the oven to 375 degrees F (190 degrees C).
Whip butter with an electric mixer until fluffy. ( I use a Kitchen Aid Mixer). Stir in the confectioners' sugar, cornstarch, and flour. Beat on low for one minute, then on high for 3 to 4 minutes. Drop cookies by spoonfuls 2 inches apart on an un-greased cookie sheet.
Bake for 12 to 15 minutes in the preheated oven. I use parchment paper for easy slide off pan. Watch that the edges don't brown too much. Cool on wire racks.
Use salted or unsalted butter according to your taste.