I've always wanted a dory but it never happened until a week ago.  Some background about me and my desire for a dory. I was born in Creston South, NL way back in 1948. There was only a dirt road connecting Creston to the other network of roads throughout Newfoundland.  There were a few cars or trucks but most people had a dory or some other type of boat. We had a yellow dory.
In the fall and winter, the dory would be hauled up on our property, turned over and we would crawl underneath and use it as a hiding place. In the spring and summer we would row the boat around Creston Inlet and sometimes we would venture out into the channel. It was a pleasurable adventure for us young children.  The memories of a childhood in Creston South are etched in my mind. They were good times.
Then we heard the news from our parents that we were moving into  St John's . We were happy and sad. There was talk that we would move to Toronto. I was 9 years old. Our furnishings were shipped by coastal boat and we took various forms of transportation into a house (more like a cabin) in Manuels. My brothe Sam and I travelled with our aunt and uncle. Their car was loaded down with stuff and we were squeezed in between. Twenty something flat tires later we arrived at our new home.  It took us 24 hours to complete an eight hour journey.
Alhough we never had a dory or a boat my fascination with dories never wavered. A couple of years ago, our daughter and her husband bought a cottage on the river in Terra Nova Village. We spent a lot of time there and we would go trouting in an aluminum boat. I wanted a dory to trout from and to row around the river and the lake.
About a year ago, I saw an ad for a dory for sale and went to look at it. My mind raced and I wanted to buy it but it was too big and heavy for me. It looked bigger now then when I was a child. I asked him if he could make a flat.  He said yes and that's  all I thought about it. On Apr 8th he called me and said he had it built and did I want it. My wife and I drove to his house and it was exactly what I was looking for.  Below are a couple of pictures. I will be taking the dory/flat to Terra Nova for the spring summer. Looking forward to the trouting and relaxing while rowing up and down the river..
The dory/flat                                   Terra Nova sunrise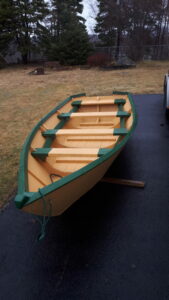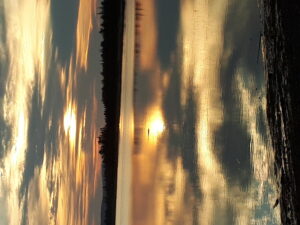 The builder, Ernie